Yesterday, our lovely neighbor and fellow endurance mountain biker Andrea was kind enough to drive us to Yellowstone Lake State Park where we started our trip. It was a warm night, but the fireflies were out, several species with lots of different flashing patterns, and there was a lovely backdrop of starscape.
Thanks Andrea!
I was awoken about midnight by a raccoon trying to get into one of our panniers! Carol had forgotten to put the bagels in the food bag, and he started gnawing on the bag trying to get to them. Unfortunately for him, Cordura nylon is pretty tough stuff and he did no visible damage to the bag, just got a little slobber on it.
We were up just after 5am, but because it took some time to get some of our gear set up for the ride, so we didn't hit the road until 7. From Yellowstone Lake we traveled SW through several small towns. As we approached Hazel Green, we noticed a big storm coming in. Unfortunately, we couldn't make it into town before it hit, and instead we had to settle for a windrow of cedars at an old farm for shelter. They were so thick and the wind was so strong (blowing the rain sideways) that we stayed pretty dry.
After lunch in Hazel Green we rode the last two miles to the IL boarder, and stopped at the historical marker that noted the originating point of all the land surveying work done in WI. Since I read old surveyors notes all the time for ecological detective work, I found this pretty interesting.
So we were finally on the "official" Trans-Wisconsin Route! The farmland quickly gave way to the bluffs and valleys near the Mississippi River, the type of terrain that's familiar to those fortunate enough to have done a weekend of riding out at the Galena cabin.
Nice county courthouse.
150 year old church... recently refurbished it seems.
The Dickeyville Grotto
Rolling along the Mississippi.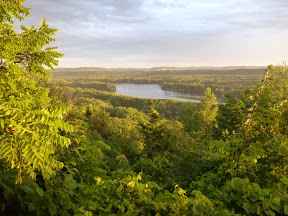 The View from our campsite at Nelson Dewey SP.
I can't speak for Carol, but things got a little rough for me in the afternoon. I was just tired. Maybe it was the heat, maybe it was the lack of sleep for the past several days getting ready for the trip, maybe it was something I ate, either way, it was a bit of a labor for me today, hope it gets better tomorrow.
Anyhow, we rolled into Cassville, slammed a chocolate milk at the grocery store, then had dinner at a bar in town, and rode the the park here and set up camp. I'm starting to think Nelson Dewey is a hidden gem of a park, great location, hill prairies, the campground even has showers!
OK, gotta sign off for now, need my sleep. We did 88 miles today, and are looking at 115 tomorrow to get to Wildcat Mountain SP. Should be "epic".
-- Posted from the trail