Though I had made up some distance the previous day, I was still behind schedule by my 4th day due to the rain on the second day. I had ground to make up. So after that stormy night I still awoke with the sunrise to break camp. Unfortunately so did the mosquitos. I quickly got on the sand road and made progress as best I could, but the wet sand was very soft, and flooded in places.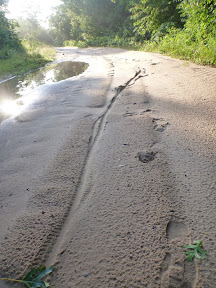 my tracks
I was tired, and almost out of water as well, so at the first opportunity I found a rough gravel road, and took it north. I ended up bypassing a lot of the sand ATV trails on this section of the "official" Trans-WI route, and I don't regret it one bit. I found some water at a indian pow-wow site (just another example of the white man taking resources away from the Native Americans) and punded down about 14 Chips Ahoy! cookies. I then took some time to clean my sand-encrusted chain. I caught up with the Trans-WI route and headed into Hatfield for a pancake, egg and hashbrown brunch. Leaving town, I took an ATV trail which was really soggy, so I bailed to a gravel road which was also very soft and soggy. Going was slow, and I realized how tired I was when I got to the south parking lot at Levis Trow and just didn't feel like talking to the mountain biking couple that rolled up.
I tried to hit the trails at Levis Trow, my plan was to ride through the park and onto the ATV trails on the other side, but things were just too wet. Snodgrass trail was closed and the doubletrack parallel too it was saturated and flooded in places. It has been a week of hard rain up there, I know because I was caught out in the first of them the previous Saturday during the WEMS race there.
I did manage to get to the main trail head, but it was clear the trail were in no condition to be ridden, and I was tired and behind schedule anyway, so I rode just a short bit of singletrack, to doubletrack, and back onto the road. Since the trails had all been so bad, I decided to just follow the roads and shourt-cut the route a bit. These roads were challenging enough as they were soft gravel and sand. Creek levels were clearly much higher than normal.
ANd that was the story of the day. It was a long slog on soft gravel and sand through pine plantations and mixed-hardwood forest. As I got closer to my destination for the day, the roads started to drain a little better (perhaps they also did not get as much rain up here) and I was feeling better, so I tried some of the ATV trails on the route. Within 1/2 mile I was stopped by a "Closed Trail" sign, so I took that as a sign that I should just stick to the road the rest of the day. immediately it turned to pavement, and I headed due north towards Thorp.
But this brought a new challenge in the form of a headwind. So it was 20 miles of rolling terrain into a headwind... it felt like RAGBRAI. I was surprised to see that the landscape was changing from evergreen forests to agricultural land. By the time I got to Thorp, it really looked like I could have been somewhere in Dane Co.
I pulled into Thorp about 5:45, and was a little disappointed to see it was a run-down town of about 1300. I still found a room at a local hotel, and made due with Subway for dinner (adding a little chocolate milk goes a long way towards making a great dinner). I washed, myself, my clothes and left everything out to dry, started updating my blog.
It was only 62 miles, but the tough conditions and my lack of sleep made it seem like my longest day yet.