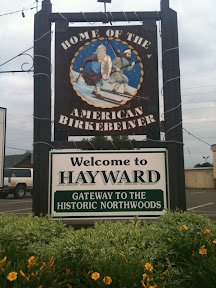 Wednesday was a good day for a rest stop for a lot of reasons. I was starting to get tired after 6 days of riding, and rest would make me stronger. I was also getting some saddle sore, and 36 hours off of the bike would help a lot. I was running low on food, needed a few supplies and repairs. And all of this corresponded with a storm front coming through, so it was a good opportunity to hunker down out of the rain.
It is amazing how a day off can get entirely filled up with little things to do. Much of the morning was spent on the hassle of Carol trying to wire money to me. Western Unions website said that there were two locations in town that I could pick up money from, but after visiting and calling each of these, it turns out, the closest place to pick up money is 50 miles south. We had to cancel that and use Money Gram instead, which I picked up at WalMart.
I then stopped at Blue Moon Cycles to get my drivetrain issue looked at and buy some energy food, then a lunch of ice cream, shopping for a dromedary bag (ended up getting another 100oz camelbak bladder from the bike shop instead), then went to go see Harry Potter, route researching, dinner and grocery shopping. I also did some laundry, cleaned and lubed my drivetrain, did a couple blog entires, started packing up my gear... and more.
Still didn't get it all done, and here I am Thursday morning still filling out trip reports!
So a total of 5 miles ridden running errands around town.