Carol and I parted ways on Saturday morning. She had to head back to Madison so she could go back to work on Monday, and I had a much more fun week ahead of me.
The morning started out well. Down into a pretty valley, then up to the ridgetop, and past several Amish farms.
This is how you bail your hay when you don't need no stinkin' tractor.
Ten back down to the Kickapoo River valley. Stopped in LaFarge for gatorade and some velcro (to mount my headlamp to my helmet) and as I left town, I noticed the river was flowing the wrong way. Fhew, I almost rode miles and miles out of my way.
After turning around, I rode on an abandoned-road-turned recreational-path, through the Kickapoo Valley Reserve, it started well, riding over this covered bridge:
No traffic, relatively flat, lots of native flowers, what's not to love?
Before long, I was riding up the side of Wildcat Mountain, which was steep itself, but looking at the entrance road to the park, that would have crushed us if we had tried it the previous day. Then back down the mountain, and I followed a quiet county highway north.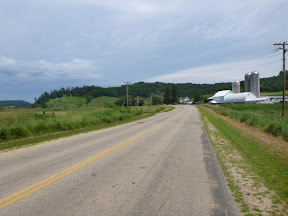 Before long I was on the Elroy-Sparta trail. I remember my friend Jeremy telling me about trips there with his family to ride the trail, and I have heard legend of the massive tunnel along it. It was neat to see a lot of other people on bikes:
But it was clear that a storm was on its way, so I pushed hard to get to the tunnel.
I was surprised how wet it was in there, it was almost raining in spots, with cave-like calcium carbonate deposits on the walls. But my timing was great, the storm hit just as I was getting to the other end of the tunnel, I grabbed a snack, and waited it out, as did some other folks:
As I was checking just outside of the tunnel entrance if it was dry enough to get going again, a rockslide suddenly occurred behind me. It was loud and startling, I didn't know what was going on, I thought maybe a truck (or a ghost of a train?) was barreling down on me at first. The biggest stone that fell was probably in the 500-1000 pound range, that could have messed someone up if it hit them.
I took some time in Sparta to try to get my bike fixed at a shop (unfortunately I'm still having problems with it now skipping in the rear cassette) and got some snacks and a couple sandwiches at a small community maket. Then back on the trail, the ecosystem changes dramatically here, with the very sandy soils, jack pine and black oak dominate vast areas and there are a lot more evergreens, clearly i had entered the Transitional Zone. I rode north on paved county roads, until my GPS told me that the route went through this gate:
So the Trans WI route goes on an abandoned road through a county forest which seems is only used by snowmobiles now. In the spirit of adventure, I went for it, for a while.
It was beautiful but sandy and steep, and I am not above pushing the bike for a while, but when I realized I had missed a turn (because the trail was so overgrown it was unrecognizable as a path) I was happy to head out of the woods and onto a doubletrack, which took me back to some paved roads.
But it wasn't long before I hit my first real sand road. I struggled through some sections and walked through others. It was a bit like riding through heavy wet snow. I eventually honed my technique so that I could keep pedaling forward most of the time, but the going was slow.
A few miles later, I'm back on pavement, where I saw this coming:
I decided to shoot for I-94, and see if I could beat the storm there and use the overpass as shelter. I did not. I got rained on for almost 30 minutes (the highway was a lot farther away than it seemed on my "map"), but it was never too heavy, and there wasn't any lightning nearby, so it wasn't that bad. It looked like the worst of the storm had hit further north.
Immediately after the interstate I was back on a sketchy over-grown trail which lead to a "sand road" stretches here were nearly impassable by a standard bike, they were mostly trails just for ATV's since not much else could use them. The sun was setting, so I found a place to put up my hammock among some closely grown black oaks having traveled some 94 miles.
Unfortunately, my trials that day did not end there. I was awoken around 12:30 by thunder. It sounded distant, so I fired up my iPhone to see where the storm was going. The Weather Channel app radar finally worked for once, and it showed me a massive thunderstorm heading right towards me. There was nothing I could do but hang there in my hammock and wait it out. This was a powerful storm, but I picked a good sheltered spot and rode it out pretty well, my bike, which I had lashed my rain fly to, fell over at one point, so I had to crawl out of the hammock and put it up again, but other then that, the hammock was surprisingly solid. Still, the storm kept me up for 2 hours, so I didn't get much cleep that night.