I got a pretty late start this (Thursday) morning with all the blog posting. Hmm the blog is supposed to HELP me by being a record of my journey, not make me late, I'll have to work on that.
It was a short ride along the first few (paved) miles of the Cheq. Fat Tire 40 race course to the trailhead, where I got my first taste of singletrack on the trip!
These were great trails and though riding a fully loaded touring bike on them is fun, its not quite as fun as if I were on a light and nimble mountain bike. The trails were a bit damp from the rain the previous day, so there was some slipping around on wet rocks. Overall the bike handled it very well, the semi-slick tires for example tend to have less traction than standard MTB tires, but with all the extra weight on them from my gear they gripped pretty well.
These single track trails more or less paralleled the Birkebeiner trail (a 40k XC Ski race) and crossed this wide mowed pass pretty regularly. Things were going pretty well for a while, but I was making slow progress. After two hours I had only covered 12 miles. Singletrack is tough on a fully loaded bike, plus I was stopping fairly often to take photos.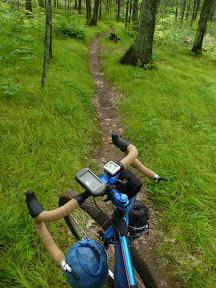 At one point I heard/saw a sawyer in the woods cutting up a large paper birch. It was hot and humid, pretty miserable weather for chainsaw work. He had gotten his saw pinched in the log so I offered to help. After I jumped on the butt end of the log a couple times he managed to pull it free, saving him from having to take the bar and chain off of his saw in order to work it free. He was out there cutting along and without safety gear (other than earplugs and gloves) NOT SAFE! But he said his partner would be back soon.
But shortly after that, my luck started to change. First, my Everything Rack, the one holding my 1 pound sleeping bag, broke off!
At first I tried to mend this using cable ties and those straps you see wrapped around the stuff sack, by wrapping these around the fork leg. I got it rolling again, but problem with this set-up is that the bag was then free to rotate around the fork leg. It was clear this was not going to work, but the mosquitos were ravenous and the deer flies were annoying, so I decided to wait to try to work out plan B until I crossed the Birkie trail and could be out in the open a bit with fewer bugs. Before I could get that far the sleeping bag slipped into the front wheel and I endoed. I wasn't hurt, but my waterproof stuff sack was torn. The mosquitos were ferocious, so I cut the sleeping bag loose and carried it my hand as I Rode a couple hundred feet to a Birkie trail crossing.
Turns out I had also torn apart one of the straps that held the sleeping bag on and when I stuffed the everything cage in the side of my pannier the sharp edges cut a hole in my toilet paper bag. I decided it was time to sit down for some repair and a late lunch. I sewed up the strap, ducted taped the two bags, and ate tortillas and hummus. I even had a little cell phone reception, so I managed to shoot off an email to Salsa, begging them for a replacement to be sent to Ashland. Then I was feeling pretty sleepy, so I took a short cat nap.
Twenty minutes later I was still feeling tired, but I had to get going, it had been over 2 hours since the cage broke, and I had made less than a mile of progress since then. I strapped the sleeping bag to my handlebars, which cut off a hand position, but it held well there. But while I was packing up the rest of my gear, I relayed I was more than just sleepy or hungry, I was feeling sick.
I was having another spell of what I call Random Fatigue Syndrome. In mid-summer I sometimes have days where I get tired, sluggish and weak randomly from early-afternoon to early-evening (though sometimes it will start in late-morning or last until late-evening). Sometimes it will effect me for days on end, other times just a day here or there. Doctors have never been able to diagnose what my problem is, they have told me that I had anemia, I was too stressed out or that it was all in my head. I suspect it has something to do with food, but I'm not sure what exactly or how, but I don't think its coincidence that it usually starts after lunch.
Anyway, I knew better than to try to ride singletrack in this condition. That's how I broke my arm back in 2005. Plus it was now about 4pm, and I was only 15 miles into what was supposed to be a 60 mile day. So I made the tough decision to short-cut the course. This meant cutting out the remaining 15 or so miles of singletrack on the route and dumping out onto a highway. But at least on the highway it would be easy going, and I wouldn't risk crashing and hurting myself out in the middle of no-place. I really regret missing that singletrack, but I am now determined to come back up here for a weekend yet this year to ride these trails and enjoy them properly.
I rode the Birkie trail out to the forest roads, and found one of the legendary warming houses used for the event. They really go all-out for that ski race!
So I cut over to US-63 on a dirt road that looked suspiciously like part of the Cheq. Fat Tire 40 course. The highway itself was well paved with a 4' shoulder, but there was a lot of traffic, including semis. I had become pretty accustomed to almost no car traffic, for example on my 96 mile day rolling into Hayward I think maybe a dozen cars passed me all day until I hit the last stretch of highway coming into town.
Thing went slow but smoothly. After 18 years of cycling, my body is pretty sued to it, and I can spin along at a slow speed at about the same effort most people put into walking. I was averaging about 13mph as I passed through Cable and onto the outskirts of Drummond. Here I left the highway, and rode north on a paved forest road to the Perch Lake Campground where I stayed the night.
My cyclocomputer when out of whack again today (I think my iPhone is zapping it!), but my best estimate is that I covered about 43 miles today. But because the Trans-WI route is pretty circuitous in this area, trying to gobble up as much singletrack as possible, I think I covered the equivalent of 65 miles on the route. Still, looking at my map, I am expecting it will be about 70 miles to the shore of Lake Superior where I will camp tomorrow night. I better get an early start in case RFS decides to rear its ugly head again in the afternoon.
UPDATE: It sounds like Salsa is going to try to get an Everything Cage shipped to me in Ashland so I'll have it for the rest of my trip!